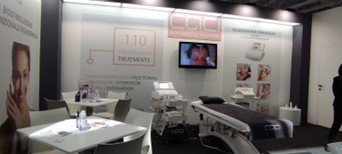 May 2022:  CACI's Italian distributor Bexteri Beauty Technology was one of 2,700 global exhibitors at the 53rd Cosmoprof Worldwide Bologna exhibition in Italy, with visitors - namely business owners, buyers and beauty therapists - attending from more than 140 countries.
After two years of no in-person international professional events, Bexteri Beauty Technology was delighted to participate in what has become a key global business networking platform. 'Returning to Cosmoprof, one of the most important trade fairs with a worldwide visibility, was wonderful,' says Bexteri's CEO Gabriele Rinetti.
The CACI stand attracted a steady flow of visitors over five days who observed various treatment demonstrations and were intrigued by CACI Synergy's SPED technology with its simultaneous microcurrent and LED light therapy. 'They were impressed by the fact that CACI is a non-surgical alternative to a face lift,' explains Gabriele. 'Besides being aesthetically beautiful, CACI is still a modern, cutting-edge technology that offers a variety of treatment possibilities.' He continues: 'One of the main advantages is that a customer can have everything in one machine. For us, working with CACI is a great honour, because of the opportunity in Italy to introduce an effective device that gives great results.'
Bexteri received lots of interest and many leads from beauty professionals attending Cosmoprof. Gabriele believes: 'There is a desire to start again, to offer something new, but above all, something good.' For Bexteri, CACI is what Italian beauticians are looking for right now.
Dean Nathanson, Managing Director of CACI International says: 'Bexteri has done an excellent job representing the CACI brand at Cosmoprof. In our 30th Anniversary year, we're proud that our CACI global community continues to expand. CACI now has a world-wide presence in over 100 countries, supported by a network of dynamic international distributors.'