TV presenter Cherry Healey introduces CACI in the new series of 10 Years Younger in 10 Days.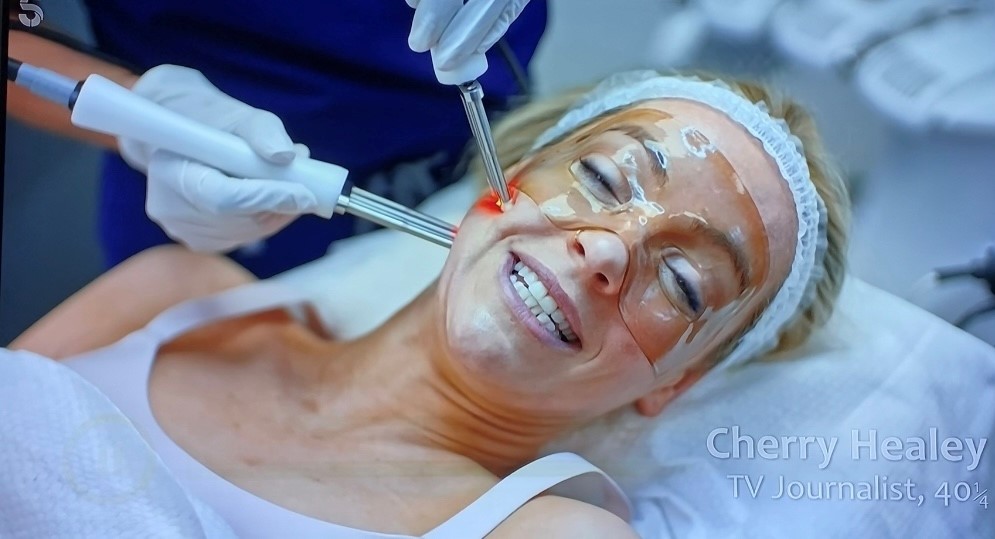 Channel 5's latest episode of 10 Years Younger in 10 Days highlighted the benefits of CACI Synergy, when Faye, 51 from Hertfordshire was treated to a non-surgical Synergy facial with added Jowl Lift.
In the opening credits, TV presenter Cherry Healey revealed: 'We're bringing you the latest high tech tried and tested treatments that give clear and visible results.'
The results-driven results of CACI Synergy, incorporating simultaneous microcurrent and LED light therapy, was chosen to give Faye a non-surgical lift after she revealed her confidence had been knocked following a premature menopause.
During her CACI Synergy treatment, skin expert and facialist Nilam Holmes explained to Faye: 'We're going to do some microcurrent to work with your own electrical energy to tighten the muscle and remind it how tight it used to be... It really gives you a great lift on the jowls.'
Following treatment Faye felt happy and said she wanted to be more positive about her appearance moving forward. At the end of the show, her new poll age was put at 50, a year younger than her actual age and 13 years younger than what viewers had previously estimated. 10 Years Younger in 10 Days airs on Thursdays at 8pm on Channel 5.