November 2023: CACI has won Gold for CACI's Purifying Silver Mask at a recent awards ceremony for Pure Beauty Awards 2003 in London in the 'Best Face Mask and Exfoliator' category.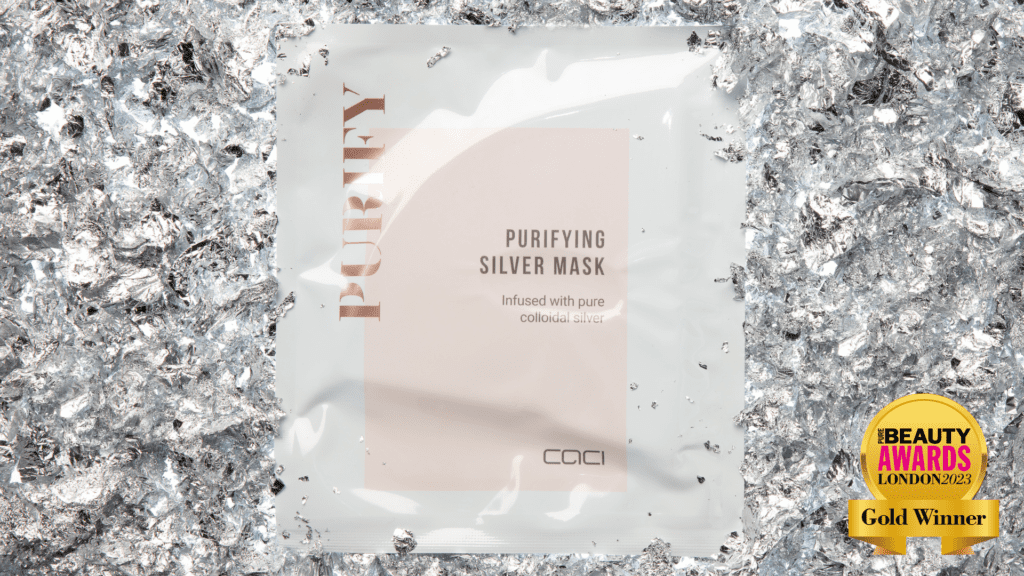 'We are thrilled to win in a highly competitive category for a brand-new product launch this year,' says CACI's Managing Director Dean Nathanson.
With some incredible testimonials from clinics and clients globally, CACI's clinics are now clamouring to stock the award-winning face mask.
'This gel face mask is expertly formulated to give a soothing and calming experience while visibly improving skin's appearance. This mask left my skin feeling soothed and deeply hydrated. The light-weight serum delivers stunning results.'
Linda Cheung Lee, influencer
It calms, repairs and makes my skin so healthy.'
Roopa Bhudia, influencer
'I absolutely loved it. It is a gel mask that left my skin feeling so soothed and hydrated. It helped calm some hormonal breakouts too, and the glow it leaves…gorgeous. One of the best masks I've tried in terms of experience and result.'
Kellys Beauty Life, influencer
What makes it award-winning?
Infused with antibacterial Pure Colloidal Silver, CACI Purifying Silver Mask is designed to soothe, calm, and improve the appearance of problematic skin. It works effectively on oily and acne-prone skin to reduce oil production and has a mattifying effect.
Loaded with a powerful combination of antioxidant-rich ingredients, such as Aloe Leaf Extract, Seaweed Extract and Marine Collagen, that work together to maintain healthy skin and a clearer complexion.
Key Actives
Pure Colloidal Silver – Soothes and calms skin thanks to its antibacterial and anti-inflammatory properties.
Chondrus Crispus Powder (red algae) – Seaweed-rich in nutrients such as beta-carotene and antioxidants to help protect skin from the damaging environment. With natural polysaccharides, peptides, and amino acids to help skin stay hydrated.
Trehalose – A water-binding plant sugar that delivers hydration to the skin.
Bergenia Crassifolia Root Extract – An anti-inflammatory, water-binding extract to help smooth the skin.
Hydrolyzed Collagen (marine collagen) – Acts as a humectant to assist in hydrating skin and promoting a smoother, dewier appearance.
Aloe Barbadensis Leaf Extract (aloe vera) – Antioxidant plant extract defends skin from environmental stressors and soothes and hydrates the skin.
Vitamin E (Tocopheryl Acetate) - Acts as a potent antioxidant to neutralise free radical damage, strengthen the skin's natural defences.
Best for: Sensitised, irritated, congested, combination, oily, acne-prone (teen, hormonal) skin.
How to apply: Comes in two sections to cover the upper and lower face. Carefully remove from packaging (additional serum in the tray can be kept and applied to the face and neck). Unfold each section of the mask and apply to cleansed skin. Leave for 10 -20 minutes. Remove and massage in any surplus product. Pop in the fridge before applying for a refreshing and cooling treat.
Purifying Silver Mask is also used as part of CACI's Purifying Facial Treatment which targets blemishes, age spots and pigmentation. It combines anti-bacterial and anti-inflammatory red and blue LED light therapy to help heal the skin and trigger tissue repair, using Orbital Microdermabrasion or Ultrasonic Actuator, ETR (Enhanced Tissue Repair pads), Wrinkle Comb, and finishing with the Purifying Silver Mask.
Watch this space for new product launching in our award-winning retail range.